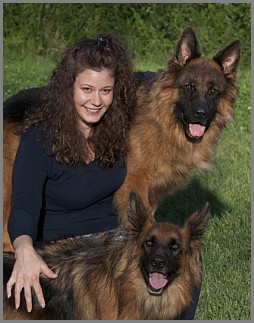 Born in Milan, Italy in 1984, Elena Ballarini

began to develop her passion for Wildlife Art after attending
art school through her desire to recreate the beauty of nature. Her works, painted entirely by hand using acrylic paint, are in fact the result of long, meticulous observation. Indeed, drawing inspiration from both reality and the many photographs she has personally taken, she creates her paintings, each time creating a new composition, by changing poses, the lighting, inserting or removing elements and finally deciding on which ones to emphasise. This is the distinctive characteristic that makes her creations unique.
To achieve these results, she uses a very accurate personal painting technique, recreating, through numerous thin layers of paint, all the details that, just as in nature, are only visible upon careful inspection. Through the eyes, heart and hands of the artist, stroke by stroke, the animals portrayed in her paintings come alive, giving life to works that go beyond photography.

In 2011, the prestigious Canadian "Artists for Conservation" Foundation chose her to become one of their select group of 500 artists from around the world who work for the conservation and protection of species at risk of extinction.

In 2012, she was selected, along with fourteen other international artists, to participate in the "Japan Wildlife Center Wildlife Fine Art Exhibition" at the Machida Museum of Graphic Arts in Tokyo.
Since 2012, she has had a permanent exhibition in a gallery in Milan, Italy at Via Brera 16, in the heart of Brera district. Her works are very popular and are currently held in private collections in Italy, Switzerland, France, Netherlands, Scotland, Canada, United Arab Emirates and Singapore.
Wildlife Art
is an artistic trend that is becoming increasingly well represented, among both artists and art lovers. The artists in this movement have the common desire to translate the fascinating world of animals and its environment in their realistic paintings.
The realism of their work is often so extreme that it is hard to distinguish it from photographs. Upon close examination, however, one realizes how these paintings testify to the artists' enthusiasm for nature. The accuracy and thoroughness of their work, through their passion for nature and belief that every detail expresses a form of art, is understood as a testimony of wild and untouched nature. Art, according to these artists, can only be a contemplation and imitation of nature. Wildlife Art could therefore be defined as a Trompe l'oeil of nature, since it deceives the viewer's eye and offers society a new relationship with nature, based on contemplation and respect.

"Japan Wildlife Center Fine Art Exhibition"
- Machida City Museum of Graphic Arts, Tokyo
The "Japan Wildlife Center" in occasion of the "JWC Fine Art Exhibition 2012" has published the art book: "Wildlife Fine Art in Japan" featuring all selected works of the fifteen international Wildlife Artists that have been part to theExhibition at the Machida City Museum of Graphic Arts in Tokyo. Six paintings of Elena Ballarini are illustrated from page 114 to page 119.
Wildscape
The most famous english magazine dedicate to Wildlife Art, published quarterly by Ken Stroud and distributed in 18 countries for over ten years, published on December issue, Vol 11, a long a long interview dedicated to Elena Ballarini entitled:
"When and how did you learn to paint?"
Best of Worldwide Wildlife and Animal Artists Vol.1
The prestigious American publishing house, "Kennedy Publishing," has published a new art book: "Best of Worldwide Wildlife and Animal Artists Vol 1" featuring the selected works of 50 international artists dedicated to painting Wildlife. Three paintings of Elena Ballarini are illustrated at pages 15 and 16.

© Copyright 2017 Elena Ballarini. All Rights Reserved